Convincing Coin Magic / Farelli, Victor / COINS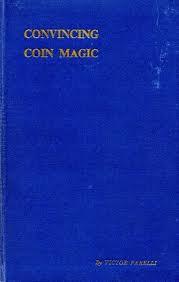 A Practical Treatise on Coin Sleights and Effects with 54 explanatory photographs and diagrams.
Farelli was regarded by his fellow magicians as "beyond all other writers on conjuring in that he sought not only to explain the 'how-to' in minute detail, down to the last crook of the little finger, but he also threw in a thousand asides—the origin of the trick, a bibliography, alternative props or moves the performer might use, a quote from David Devant, the psychology behind the feat, audience reaction to it, and tips on practicing" (Robert Lund). Contains a select bibliography of coin magic.
1st edition 1946 George Armstrong; original 92 pages; PDF 83 pages.
from Lybrary.com