Essential Dai Vernon, The / Ganson, Lewis / GENERAL MAGIC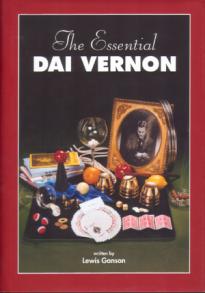 Dai Vernon was the most influential magician of the twentieth century. His vision helped to define and raise the artistry of close-up and platform magic to a degree unequalled by any other magician then or today. His thinking pushed magic into the modern era. His contribution to magic was essential to its refinement and growth. His own magic is perhaps the most important - indeed essential - body of work ever produced for the art.
And now you can have The Essential Dai Vernon to guide, inspire and accelerate your progress in magic. This single, mammoth volume contains all the Vernon classics written by Lewis Ganson:
•The Dai Vernon Book of Magic
•Inner Secrets of Card Magic
•More Inner Secrets of Card Magic
•Further Inner Secrets of Card Magic
•Dai Vernon's Ultimate Secrets of Card Magic
•Dai Vernon's Tribute to Nate Leipzig
•Malini and His Magic
•Dai Vernon's Symphony of the Rings
. . . and the remarkable, previously unpublished "Vernon Scrapbook," more than 70 pages of rare photos, correspondence and memorabilia!
Almost 1100 pages of the finest magic from the most respected magician of our time. If you bought these masterworks separately, you would pay $225 or more, if you can even find them. The Essential Dai Vernon places them into your hands, in one beautiful hardcover volume with full-color dustjacket, for almost half that price.