Essential Sol Stone, The / Hobbs, Stephen / CARDS / CLOSE-UP / COINS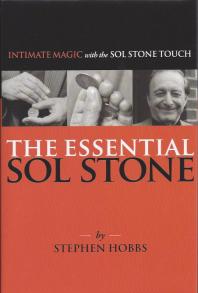 from the dust jacket:
At long last, legendary New York magician Sol Stone's best effects have been amassed into a single, hard-bound volume. Here are over 50 of Sol's favorite effects - including some of his most closely-guarded secrets - all completely updated and rewritten, with the full routine and Sol's newest improvements.
The Essential Sol Stone also shares Sol's life story, from his childlike wonder at experiencing the Thurston show, to his brushes with death in WWII; his use of magic as diplomacy; his years on the faculty of Brooklyn College and his successful private practice as a Clinical Psychologist. Sol's is the unusual case of a man with a thriving professional career who is also an outstanding magician - not a lightweight, but a true master of the art of entertaining with close-up magic.
The book details all of the sleights and subtleties in Sol's arsenal, clearly and in isolation, thereby streamlining and simplifying the learning process. Magician's of all skill levels can learn from this master of intimate illusion. Written by Stephen Hobbs, edited by Richard Kaufman, with over 350 crystal-clear illustrations by portrait artist Cassidy J. Alexander, this is a book that will delight performers and collectors alike.