A Gamblers Dream / Giobbi, Roberto / CARDS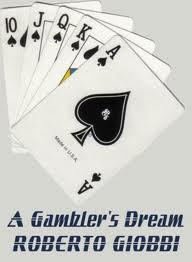 This is pure Giobbi, a great card routine including Poker, Stud Poker, BlackJack, and Bridge demonstrations where the gambler always wins. However, the real value are the lessons Giobbi teaches you in terms of constructing a routine, timing and psychology. He explains why he says a certain word or sentence at that particular time and not earlier or later and why not anything different. You get the reason and thus you can apply these lessons to many other effects. These insights transcend the routine at hand and will make you a much better, more effective and more knowledgeable magician.
As Giobbi writes in this ebook, the routine can be performed as a self-working effect. You start with a stacked deck and could proceed through the sequences without any moves and achieve a pretty strong effect. Of course, the inclusion of some false cuts and shuffles strengthens the performance and the mystery. In this sense this is a routine very similar to Bill Malone's Sam the Bellhop, although Giobbi does not use a comedy patter.
You might say: "Oh no a stacked deck. How will I get this into play?". Relax, Giobbi has it worked out for you. Because additionally you get an effect that allows you to introduce a stacked deck right in front of your audience without them having any clue about it.
This is the superiority of Giobbi's teachings who leaves no loose ends and thinks through the entire routine from beginning to end. It goes without saying that this pre-effect, to bring a stacked deck into play, can be used for many other effects where a stacked deck is necessary.
1st edition 1986; 21 pages; illustrated.
www.lybrary.com