Kaleidoscope / Fulves, Karl / CARDS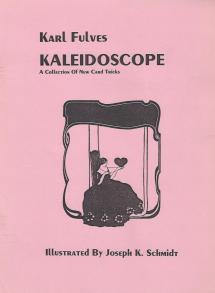 From the introduction:
"Technically speaking, the great majority of card tricks consist of a location - some way of finding an apparently lost chosen card - and a revelation."
Those words were written by Henry Hay in The Amateur Magician's Handbook, though even then the situation was changing: The Stars of Magic, initiated at about this same time, contained few locations among its many fine card tricks.
Kaleidoscope contains no card tricks of the you-lose-it-I'll-find-it variety, but it does feature excellent material by John Scarne, Jack Birnman, Roy Walton, and Bill Wisch. Joseph K. Schmidt, the premier magical artist working today, contributes the expert artwork.