Stewart James in Print: The First Fifty Year / James, Stewart / GENERAL MAGIC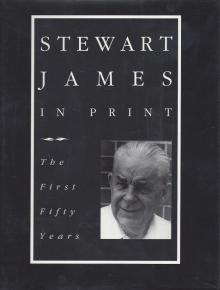 From the Dust Jacket:
"This is one of the largest magic books ever published. It is a testament to the genius of one man. Stewart James In Print features more than 400 tricks and routines Mr. James has published or marketed over a fifty-year span of incredible creativity.
In addition to scores of intriguing special chapters, each trick is prefaced by a fascinating introduction. It is here we learn much about the history of magic in this century, the evolution of these ground-breaking, original mysteries and, indeed, Mr. James's own unique techniques to ignite the creative process".