13 Steps to Mentalism / Corinda, Tony / MENTALISM and BIZARRE MAGICK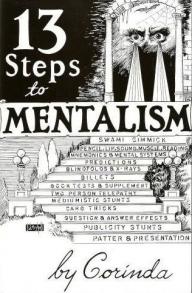 The classic work on mentalism and a must for anyone studying the topic.
Nail writers, predictions, card tricks, blindfold tricks, muscle reading, billets, publicity stunts, patter and presentation and more are covered in its 13 chapters.
1. The Swami-Gimmick - This gimmick makes it possible to make written predictions. Explained are the various types of gimmicks which exist, their uses and their applications (24 effects). 2. Pencil, Lip, Sound, Touch, and Muscle Reading - Thanks to movements that most of us aren't aware of making, you can learn to perform incredible effects. 3. Mnemonics and Mental Systems - To the mentalist, properly used memory systems are indispensable. You can give incredible demonstrations any time. 4. Predictions - This chapter describes the basic techniques used with swami gimmick and other items to make seemingly impossible predictions. 5. Blindfolds and X-Ray Eyes - Blindfolds can turn ordinary stunts into incredible performances. Learn how to use them to your advantage. 6. Billets - Learn switches, tears, retentions and peeks - and put them to good use. 7. Book Tests - Use books in a routine that seems impossible. 8. Two Person Telepathy - Use these methods to create a two person mentalism act. 9. Mediumistic Stunts - Things which seem to be more than they really are. 10. Card Tricks - Mentalism with cards. 11. Question and Answer (Readings) - Learn the basics of Cold Reading. 12. Publicity Stunts - How to gain publicity. 13. Patter and Presentation - Methods which will help the presentation of your mentalism effects.
Hardbound with dust jacket.
info from martinkamagic.com