Definitive Sankey, The - Volume 3 (Collector's Edition) / Gladwin, Andi & Joshua Jay / CARDS / CLOSE-UP / COINS / HISTORY AND THEORY / RUBBER BANDS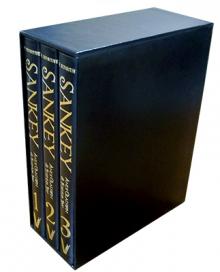 1600 pages. 500 tricks. 3 volumes. 1 mind. Welcome to The Definitive Sankey.
For the collectors, we have an extremely limited supply of Collector's Edition volumes of The Definitive Sankey. For just $250 dollars, you get special edition volumes in sleek black leatherette, plus a gorgeous slipcase, plus TWO feature-length DVDs of Jay performing the best of the best. Finally, every deluxe edition is signed by Jay, Josh and Andi and contains an original page from one of Jay's notebooks.