Edwins Magic, Volume One / Hooper, Edwin / CHILDREN'S MAGIC / CLOSE-UP / GENERAL MAGIC / HISTORY AND THEORY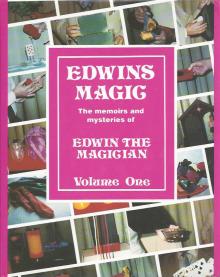 Manufacturer's Description:
Large hard bound book. Volume 1 has 286 pages and Volume 2, 310 pages. Both volumes have dozens of photographs and illustrations. Original , novel, interesting tricks and routines embracing all kinds of conjuring. A saga laced with anecdotes and whimsical tales that will have you chuckling as you weave your way with him through an eventful boyhood, to become a soldier, then a Punch and Judy Professor, finally commencing the creation of what was to become the World's largest business selling tricks to magicians. These books by Edwin, the founder of the famous Supreme Magic Company is full of the kind of magic the company was famous for, which you can make, and perform.